Introducing the new Ford Tourneo Custom Zetec, the ideal choice for comfort and versatility.
If you're in need of a spacious and versatile 8 seater minibus van, look no further than the Ford Tourneo. As a result of its impressive features and intelligent design, Transit Custom passenger van is perfect for businesses and organisations that require ample seating for passengers.
Equipped with an advanced diesel engine, the Ford Transit Custom minibus delivers exceptional performance and fuel efficiency. Moreover, this Ford 8 seater is packed with innovative technology which prioritises safety while on the road.
The Tourneo Custom interior provides maximum comfort and convenience. The adjustable driver's seat and automatic air conditioning ensure a pleasant driving experience, while the navigation helps you reach your destination without interruptions. The dual side load doors and spacious cabin make it easy to enter and exit the minibus.
The Ford Custom 8 seater comes with an Adaptive Cruise Control which helps to maintain a safe distance from the vehicle in front. This technology, combined with the Lane Keeping Aid and Warning system, enhances the safety of all passengers.
The Tourneo Custom has an elegant exterior with heated door mirrors, while the rear-view camera allows for easy maneuvering and enhanced visibility. The Front and Rear Parking Aid and Keyless Entry futher simplify the van's operation.
In conclusion, the Ford Transit Tourneo Custom is a reliable and practical option for those seeking a spacious and comfortable mini bus. With its advanced features, safety technology, and sleek design, it is an excellent choice for anyone in need of a versatile transportation solution. Furthermore, our comprehensive vehicle maintenance package gives you extra peace of mind that your minibus will always run like a champ.
For more information, please visit the vehicle specification tab, or call us on 01424 863 456.
Transmission
Manual
Free UK Delivery
Included
Bluetooth
Included
Warranty
Included
Download the Vehicle Specification PDF
In the vehicle specification PDF you will find the technical specification, equipment list and contact details to talk to our team
Fill in the form below to customise this lease to your requirements.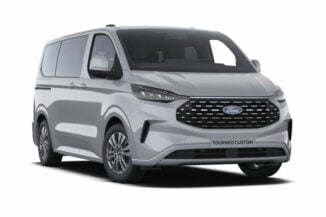 Product type:
Contract hire
Initial rental:
£5,274.48
Contract length:
60 months
Experienced & independent
thanetwide domestics ltd
very impressed with service from start to finish they was very prompt with all actions and always on hand with any queries i had
they kept in good contact helped with my insurance and even checked that the van turned up exactly as i required it i highly recommend this company and will always use in future
17 Nov 2023
Thank you!
They were patient, going through loads of options for my fussy staff members.
16 Nov 2023
Had my new vehicle delivered to my home…
Had my new vehicle delivered to my home address with no issues or complaints.
2 Nov 2023
Tom and Graham have been so helpful and…
Tom and Graham have been so helpful and patient
Would definitely recommend!
30 Oct 2023
Excellent customer services
Excellent customer services
Great prices and kept up to date
24 Oct 2023
Absolutely Outstanding!
We have been leasing commercial vehicles for over 10 years. This is the first time we have used CVC Ltd and I cannot praise them highly enough. James especially was outstanding in his knowledge, pricing and customer service. From start to finish the whole process from enquiry, ordering, delivery and after sales support was second to none. This is quite honestly the very best vehicle leasing experience I have ever had!
21 Sep 2023
Fantastic customer service
Fantastic customer service. kept updated throughout the whole process and have already ordered another van for next year.
13 Sep 2023
First van I've leased
First van I've leased , the experience couldn't have been better .
Graham and Tom were unbelievably helpful all the way throughout the process which only took just over a week from my 1st email to delivery of van .
Would definitely recommend.
9 Sep 2023