As a commercial vehicle leasing company, we understand the importance of keeping your van organised and professional on the job. That's why we recommend adding van shelving or racking to your van leasing deal to secure hardware supplies and tools, preventing them from being loose in your vehicle. Our team is here to help you choose the best storage systems based on your needs, whether you require heavy-duty storage or organisation for smaller components. Moreover, leasing with Commercial Vehicle Contracts allows you to spread the cost of vehicle shelving and racking over the term of your agreement.
Van shelving and racking solutions: Keep your van looking professional
Experience the benefits of an organised and efficient workspace on wheels, just like AJOB Electrical, an electrician and home technology expert in Leeds and the surrounding areas. Check out the below image featuring their leased Ford Transit Custom displaying a precisely organised collection of tools and materials.
We encourage all our clients to consider integrating shelving and racking systems into their van leasing deals. Not only will it boost your efficiency by providing quick access to necessary items, but also demonstrate your professionalism and commitment to quality, ultimately earning your customers' trust and loyalty.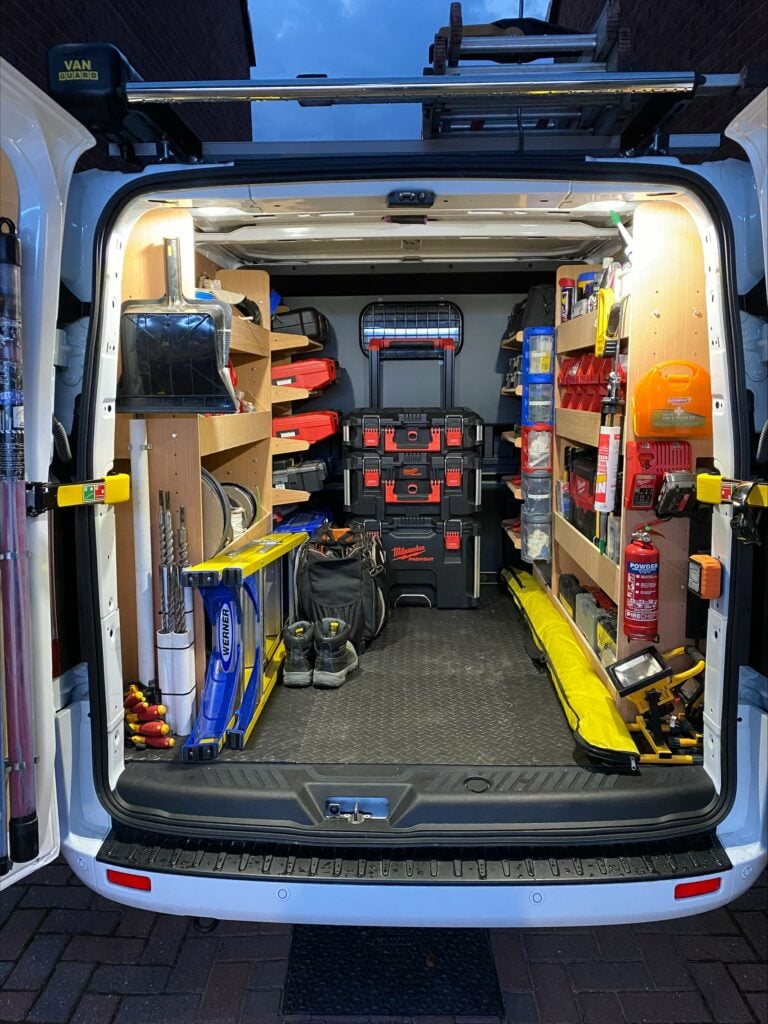 Different types of van shelving and racking
Linbins are highly versatile plastic storage containers mounted on a rack in your van. They come in rows and effectively hold small items in place during transit. You can stack them without distortion and even attach them to louvre panels for added stability.
These panels enable you to add linbin storage anywhere in your van. They provide support for linbins, regardless of how heavily loaded they are. Double-sided louvre panels double your storage capacity, while single-sided panels are perfect for placement near a wall.
Modular racking offers flexibility with customisable arrangements. Drawers can be rearranged or replaced, and modules can rotate for easy access. This racking system is especially useful when mounting storage accessible from the side door. Integrated T-Racks are also available.
If your business vehicle doesn't carry heavy tools or machinery, plywood racking is an ideal choice. This system combines plywood shelving with a steel framework to secure goods and tools during transit. Plywood and steel racking is better suited for heavy-duty use.
Galvanized sheet steel sacking
For heavy-duty storage needs, racking made from galvanized sheet steel is an excellent option. This corrosion-resistant steel is ideal for damp environments or for storing paints and other liquids.
Contact us for customised van shelving and racking solutions
If you're interested in exploring storage solutions for your van or vehicle fleet, don't hesitate to give us a call on 01424 863 456 or contact us for a consultation. Our team will guide you through the available options in more depth, ensuring you find the perfect fit for your needs. If you'd like a quote, we are highly competitive on all of our van leasing deals. Let us help you enhance your commercial vehicle's organisation and efficiency with our expertly tailored van shelving and van racking solutions.