Are you in search of a utility van for sale? Consider opting for a custom-built utility van instead. Worried about the expense? With leasing, you can enjoy the benefits of a tailor-made utility van through manageable monthly payments, rather than a hefty upfront cost!
With over 10 years in the van leasing business, we have experience with specialist vehicles like utility van conversions. We have supplied industry-specific conversions to businesses across the UK, including utility service providers.
As a result of our experience, we can assist you in choosing the most cost-effective bespoke utility van conversion while also ensuring that the maximum payload is achieved. We have completed 100s of conversions and today we are ready to deliver your requirements.
Our wide range of brand-new LCVs can be converted into custom utility vans with a variety of standard features, or with a totally bespoke specification. All our utility vehicles are converted in strict accordance with current legislation.
Contact us today to discuss your requirements.
What is a utility van?
There are strict guidelines and rules regarding business practices and service levels in the utility industry that are required by regulatory bodies. In consequence, energy, water, and telecommunications companies in the UK are among the most heavily regulated companies in the world, so it's not surprising that their vehicles must meet strict guidelines.
In England and Northern Ireland, it is strongly recommended that rear chevron vehicle markings consisting of fluorescent orange or red reflective material alternated with fluorescent yellow non-retroreflective material be used for mobile or short-duration roadworks; in Scotland and Wales, this is mandatory. In addition, the vehicle must have at least one amber warning beacon visible from all directions, and the beacon/s must remain on at all times, even when the vehicle is travelling at a slower speed than the general traffic speed or engaged in quick maintenance work.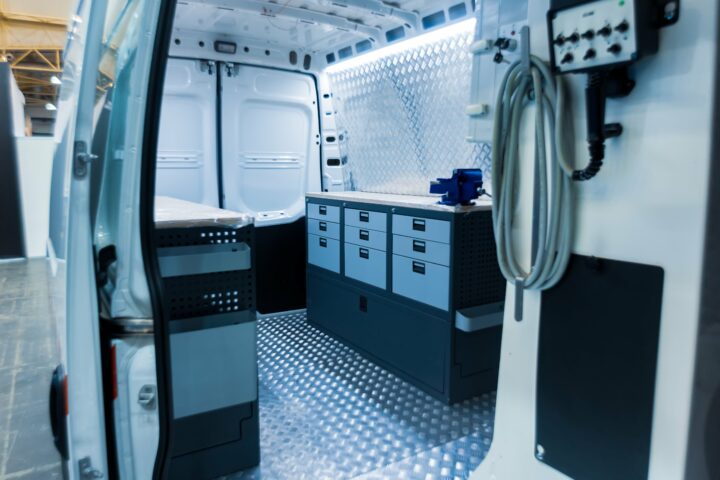 The features of a utility van depend on the specific needs of the individual or business but generally include:
Hand wash unit
Night heater
We know that every industry has unique requirements, and that's why we offer bespoke solutions to make sure your business runs smoothly.
Our expert team will work closely with you to ensure that your utility van conversion has everything you need on the job.
Utility vans to meet your needs and legal requirements
The Commercial Vehicle Contracts team will work with you to fully understand the vehicle's planned use, and then design, test, and build a solution that meets your needs. By doing so, your van will comply with legal requirements, as well as allow your engineers to complete their work quicker and safer.
With utility van conversions, various-sized meters, pipework, installation tools, and equipment are stored in a customised and well-organised manner, improving efficiency, safety, and customer service. Racking systems feature crash-tested shelves to ensure safe storage. In addition to ladder hooks and a safety net, a lockable gas cabinet might be included in the conversion to transport hazardous materials. Organise smaller parts efficiently by adding sliding boxes, dividers, and anti-rattle mats to the shelves. A utility vehicle's interior is usually finished with a durable, hardwearing lining and an anti-slip floor to ensure the safety of its users.
What can we do for you today?
Investing in a custom utility van conversion can transform the way you do business. At Commercial Vehicle Contracts, we understand the importance of having a vehicle that meets your specific needs and requirements. We offer customised solutions to ensure that you have a vehicle that is tailored to your business needs. Contact us to learn more about our utility van conversion services and how we can help take your business to the next level.
Whether you're winning new contracts, increasing your workload, or upgrading your fleet, Commercial Vehicle Contracts is here to help. When you lease a utility van, you know exactly what you will pay every month so you can plan accordingly.
As the cost of the conversion is included in your lease deal, there is no high upfront cost. In addition, we can handle services, maintenance, tyres, and breakdowns for you if you opt for a vehicle maintenance package.
We will help you specify, source, and lease the right vehicle for your business with the help of our van conversion experts. Get in touch today! Call us on 01424 863456.