Unlock the full potential of your leased van by using it as a mobile advertisement for your business. Whether you're leasing a single van or an entire fleet, our van signage and van wrapping services are designed to make your life easier by streamlining the process and delivering your vehicle fully customised and ready for action. Our advanced printing facilities offer the technology needed for creating unmissable vehicle graphics. Contact us to discuss your ideas and allow us to turn them into reality. Say goodbye to the hassle of coordinating with multiple shops and wasting precious time.
Why choose our van sign writing and wrapping services?
👌 Convenience: With our all-in-one solution, you can lease your van and get it customised all in one place. We'll take care of everything, delivering your van with eye-catching graphics that will turn heads and promote your business wherever you go.
⏱️ Time-saving: By choosing our sign writing and wrapping services, you eliminate the need to send your van to another shop for customization. This means you can put your van to work as soon as it's delivered, saving you valuable time and resources.
🎨 State-of-the-art technology: Our advanced printing facilities offer cutting-edge technology to create stunning, high-quality graphics that will make your brand stand out on the road.
🤩 Expertise: Our experienced team of designers and technicians will work closely with you to develop a design that perfectly represents your brand and captures the attention of potential customers.
💷 Cost-effective advertising: Vehicle graphics are a one-time investment that will continue to promote your business for years to come. As your van travels around town, thousands of people will see your brand every day, leading to increased brand recognition and potential new customers.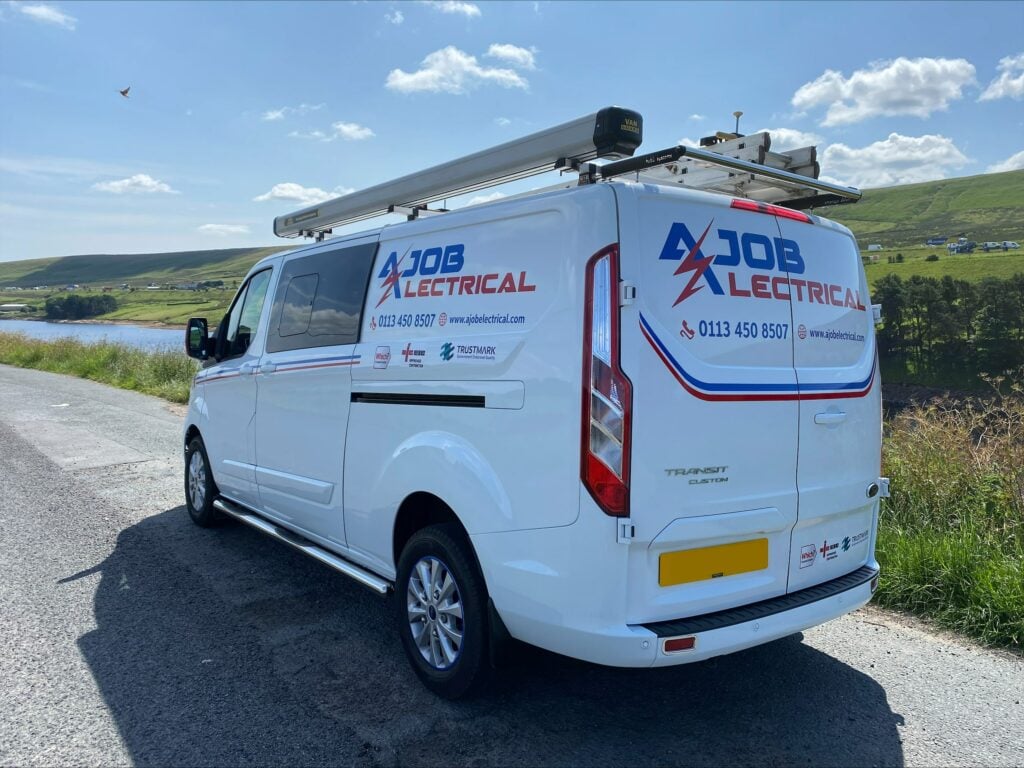 Photo: Our customer, AJOB Electrical, a premier electrician and home technology service provider in West Yorkshire, has acquired a Ford Transit Custom through leasing. The van reflects the professionalism of the company, and with the strategic placement of branding on its sides and rear, it effortlessly captures the attention of thousands of potential clients daily as it navigates the streets.
Invest in your business success with van signage and vehicle wrapping
Our van signage and van wrapping services are more than just an aesthetically pleasing addition to your leased vehicle. They're a strategic marketing tool that can help grow your business by increasing brand visibility and reaching new customers. In just a few days, your vehicle livery could be gaining you brand new clients, spreading brand awareness and reinforcing your company's reputation.
Don't miss out on this opportunity to maximise the value of your van lease. Contact us to discuss your requirements and let our team of experts bring your vision to life. Call us on 01424 863 456 today!