For UK companies seeking efficient van finance options, we provide some of the best VW Caddy lease deals. With both the Caddy Cargo and Caddy Cargo Maxi available, you're guaranteed to find the best Volkswagen Caddy model to suit your needs and budget. Browse our selection of business contract hire offers below or call us on 01424 863 456 to discuss your van lease.
Choose the Volkswagen Caddy business contract hire
Lease the Volkswagen Caddy and experience the exceptional reliability, impressive efficiency, and cutting-edge technology offered by the 5th generation of this popular small van. With its multi-award-winning performance, stylish design, and low running costs, the Volkswagen Caddy Cargo is the perfect choice for those looking to lease a van for business.
The Caddy boasts exceptional capabilities, despite being the smallest van in the Volkswagen range. With the latest modular platform (MQB), the 5th generation Caddy Cargo is more comfortable and capable than ever. The new suspension and advanced safety features, including ABS, Engine Braking Control, and Traction Control, ensure a smooth and secure drive. Furthermore, the sleek, aerodynamic design and range of petrol and diesel engines result in superior fuel efficiency. Plus, the unique twin-dosing AdBlue system ensures that the Volkswagen Caddy is up-to-date with the latest emissions standards.
Designed with the driver in mind, this small VW van features smart Driver Assists, a fully digital cockpit with advanced connectivity and infotainment systems, and an ergonomic driver's workstation. Additionally, the Caddy Cargo 5 comes with wider rear-wing doors and a wider and higher load bay that makes loading and unloading larger items a breeze. Plus, now you can load Euro pallets widthways!
Flexible Volkswagen Caddy van finance
As an automotive leasing company, we specialise in Volkswagen van leasing. With competitive VW Caddy lease rates, expert guidance, and excellent customer service, we offer vehicle contracts tailored to your business requirements. Our Volkswagen Caddy van lease deals also come with road tax included and free delivery to your door, giving you peace of mind. We also offer flexibility in initial rental, contract length, and mileage, so you can choose the option that suits you best. Plus, with our price match promise, you can be confident that your monthly rental will be budget-friendly.
Get the best Volkswagen Caddy lease deal today!
Browse our range of business van leasing deals available below or get in touch with us to discuss your specific requirements and receive a custom quote. If you're interested in a Volkswagen Caddy Cargo model that isn't listed here, we can also assist you with that. Contact us today and let us find a perfect leasing solution for your company.
Read more
Add a header to begin generating the table of contents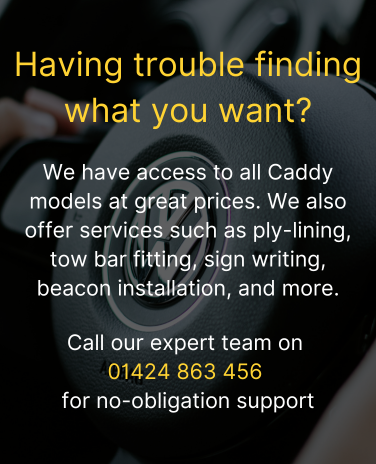 VW Caddy business van leasing FAQs