New vans to be launched in the UK
In an exciting development for the automobile industry, a series of brand new vans is scheduled to be launched in the UK in 2024. With a focus on innovation, design, and performance, these upcoming models aim to revolutionise the way businesses approach transportation and logistics. From updated diesel engines to new electric and hydrogen-powered models with advanced safety systems and versatile cargo capacities, these new vans promise to offer a range of options to meet the diverse needs of businesses.
In this article we'll shed some light on new van models set to go on sale, highlighting their key features. Stay tuned for an exciting future on the roads of the UK as this new fleet of vans prepares to make its mark!
Ford Transit Custom EV
Ford's range of hybrid and electric commercial vehicles is continuously growing to ensure the brand's viability beyond the 2030 sales ban on petrol and diesel. After a successful run with the e Transit, Ford took a bold stride by electrifying the UK's top-selling medium van, the Transit Custom. 
Ford has equipped the E-Transit Custom EV with an impressive electric range of up to 236 miles, breaking new ground in the medium electric van sector. The remarkable result achieved by the e-Custom vans can be attributed to the inclusion of vapor-injected heat pump technology as a standard feature. This innovative technology plays a crucial role in improving energy efficiency, making it a key factor in achieving an extended range for commercial vans.
The Transit Custom electric van offers two power motor outputs, 100 kW or 160 kW (equivalent to 135 PS or 217 PS). The vehicle supports DC fast charging up to 125 kW, allowing for a speedy 15-80% recharge within 41 minutes – according to the tests, it can recharge 24 miles within just five minutes using a 125 kW charger. Furthermore, the van is also equipped with an 11 kW AC onboard charger, allowing drivers to fully recharge the battery overnight in just 7.8 hours. This ensures that the van is fully charged and ready for the day ahead. It's worth adding that every purchase or lease of the E-Transit Custom includes a complimentary 12-month subscription to the Blue Oval Charging Network, granting customers convenient access to public charging facilities.
In terms of carrying abilities, the Ford Transit Custom electric offers load volumes from 5.8 to 9.0 m3 and a payload capacity of up to 1,100 kg. It also has a maximum load length of 3,450 mm. Furthermore, the van can tow up to 2 tonnes, which is 800kg less than the standard Custom van.
Apart from the obvious differences under the bonnet, Ford modified the standard Custom to offer the electric version a unique and distinctive appearance. The electric Transit Custom features new LED headlights, tail lights, and running lights along the bonnet, along with a diamond-patterned grille embellished with an "E" badge.
Production of the electric Ford E-Transit Custom has just begun at the firm's plant in Turkey and the first models are expected to roll out of the factory by Spring 2024. The prices are expected to start from around £39,500 (exc VAT), however, they can be reduced by £5,000 thanks to a Plug-in Van Grant. This price point is approximately £6,000 higher compared to the Transit Custom PHEV. However, it is similar to the pricing of the Vauxhall Vivaro-E.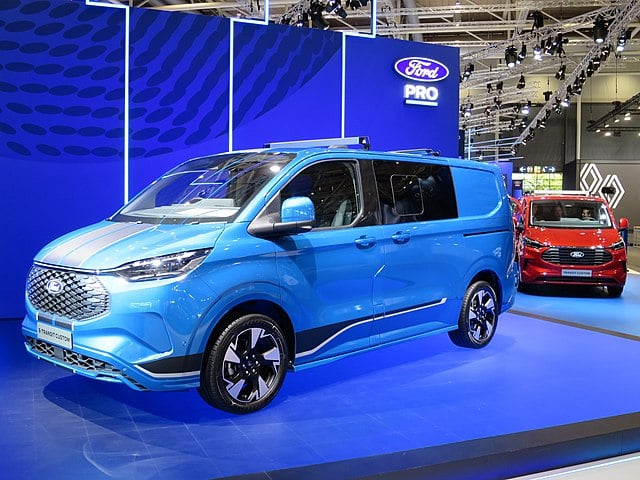 2024 Renault Master
Renault is currently working on its large van range in an effort to refresh an outdated version that has been on sale since 2010. The current Renault Master is one of the oldest LCVs on the market and looks rather dull and uninspired.
Although there are few official photos available, and even those are heavily disguised, the photos taken during prototype testing suggest that the all-new Master is designed to match the new Renault Kangoo and other vans in the Renault commercial lineup. The 2024 Renault Master van is expected to get a new sleeker look. This should not only make the van more attractive but also enhance its aerodynamics. As a result, we can expect increased fuel economy and eco-friendliness. The changes will also continue on the inside. A more car-like infotainment system will replace the outdated one in today's model. Furthermore, the new Renault Master large van will likely have a brand new interior with touchscreen controls and a few buttons for climate control- just like the recently launched Kangoo.
With shorter wheelbases, the 2024 Master van has been designed with inner-city delivery drivers in mind. With smaller turning circles and tighter low-speed cornering capabilities, this new vehicle should feel right at home weaving through urban areas. The upcoming model will continue to offer three different lengths: short wheelbase (SWB), medium wheelbase (MWB), and long wheelbase (LWB). There is also a possibility that Renault will keep the extra-long model, which is based on the longest version of the van. As a specialist in leasing bespoke van conversions, we are especially excited about the chassis cab of the new Master. The chassis cabs give buyers the ultimate flexibility to have their van converted and customised according to their specific needs and preferences.
In line with modern trends in the van industry, the future Master is being designed with an electric motor right from the start. This intentional design approach is expected to result in a significant upgrade compared to the current model of the Master E-Tech, which feels rather outdated compared to other electric vans on the market. In addition to the electric version, Renault insiders have mentioned the possibility of offering a hydrogen fuel cell system for the Master. While Renault has previously converted the existing Master to run on hydrogen, it hasn't gained much traction, especially in the UK. However, this time around, Renault is developing it in-house instead of relying on an external company. It's worth noting that diesel versions will still be available upon launch, with existing powertrains likely to be utilised rather than a complete replacement.
We're expecting the new model of the Master van to be available for lease and purchase in spring 2024, most likely in April. Renault will hold an event on 20 November 2023, at which it is expected to disclose more details about the vehicle. Even so, pricing and specification information may only be released closer to the actual launch date.
New Volkswagen Transporter
After a successful run since 2015, Volkswagen has decided to retire its beloved medium van, the Transporter T 6.1. The final units rolled off the VW factory floor in 2023, leaving fans curious about what's in store for the future. But fear not, because Volkswagen has teamed up with Ford for an exciting collaboration known as Project Cyclone. This partnership has already yielded impressive results with the new Ford Ranger and Volkswagen Amarok pickup trucks. And now, the upcoming 2024 VW Transporter will be another exciting joint venture between these two automotive giants.
Given Ford's technology partnership with Volkswagen, it is reasonable to assume that the next Transporter will share significant components with the anticipated Ford Transit Custom. However, looking at the Amarok and Ranger collaboration, it is highly unlikely that the 2024 VW Transporter will turn out to be a mirror image of the new Ford Transit Custom. While they share some components, each brand strives to maintain its unique design and brand identity. The Transporter van is expected to follow a similar path, ensuring that the new model retains its distinctive VW characteristics while coexisting with the Transit Custom in the market.
It is anticipated that the two medium vans will share comparable engine configurations and transmission systems. Although Volkswagen's exact engine options have not yet been disclosed, it is reasonable to expect that Volkswagen adopts a range of 2.0-litre diesel engines similar to Ford. Naturally, some modifications that offer a unique driving experience might be on the table. The prospect of a new VW e-Transporter is particularly promising since the previous model had an official range of only 82 miles. We hope that Ford will help to address this issue, as their electric Transit Custom leads an excellent example with its impressive range of 236 miles. In addition, Project Cyclon has the potential to widen Volkswagen vans' range of power options by introducing a plug-in hybrid variant.
Considering the shared platform, it is expected that both the Ford and VW models will have similar dimensions. This would likely include payload capacities of around 1,100kg and towing capacities close to 2,000kg. Additionally, features such as a flat cabin floor can also be anticipated.
At present, the 2023 Ford Transit Custom is being manufactured in Romania. As for the 2024 VW Transporter, we will need to await further announcements from the manufacturers to know their plans.
Ford e Transit Courier
In line with Ford's plans to introduce a full range of electric vans by 2024, the manufacturer has unveiled a battery-powered version of its smallest model – the e Transit Courier and e Tourneo Courier. These two versions join the petrol and diesel-powered all-new Courier, which has been available to order in the UK since summer 2023 for a late 2023 delivery. The E-Transit Courier is expected to enter production in late 2024.
Based on the B2E platform used in Ford's small car range such as the Fiesta or Puma small SUV, the E-Transit Courier underwent a significant modification to allow for full electrification. According to the information shared by Ford, the van will use a front-mounted 100kW e-motor with up to 134bhp/290Nm. The vehicle will also offer a 100kW DC fast charging, allowing a 10 to 80% recharge in less than 35 minutes – adding 54 miles of range with just 10 minutes' worth of charge. However, there are no official details about what battery size might be used in the Ford eTransit Courier or about its driving range. We expect this information to be shared later in 2024.
For its internal combustion engine offerings, the 2023 Transit Courier van comes with a 1.0-litre petrol engine with 123bhp or a 1.5-litre diesel offering 99bhp. There is a six-speed manual gearbox as standard, although the petrol engine has the option of a seven-speed automatic. Naturally, the electric Courier will be equipped with an automatic transmission.
In terms of appearance, there is little difference between the petrol, diesel, and fully electric versions, although the headlights and grille of the latter are slightly different. Both, the Transit Courier and e-Courier offer more load space and even have an extra 44 litres of storage in the front trunk. Furthermore, the 1.8m load length combined with 1.22m between the wheel arches means that the van can accommodate two euro pallets with ease. The Transit Courier EV model's capacity stands at 700kg. Meanwhile, the petrol and diesel versions have a maximum payload of 678kg, which can be increased to 845kg.
The new Transit Courier received a number of technology improvements as well, including twin 12-inch touchscreens and the latest version of the Ford SYNC 4 infotainment system. Moreover, the van now offers an array of intelligent driving assistance systems, which make driving and parking easier and safer. These include adaptive cruise control, lane assist, pre-collision assist, intelligent speed assist, blind spot warning, reverse brake assist, and pedestrian alerts. An Office Pack is also available, which includes a desk that folds away when not in use, as well as additional lighting. We should expect at least the same features to be offered in the Ford Transit Courier electric.
The starting price for the all-new Transit Courier is £16,200 exc. VAT, however, the cost of the electric model is yet to be announced by Ford.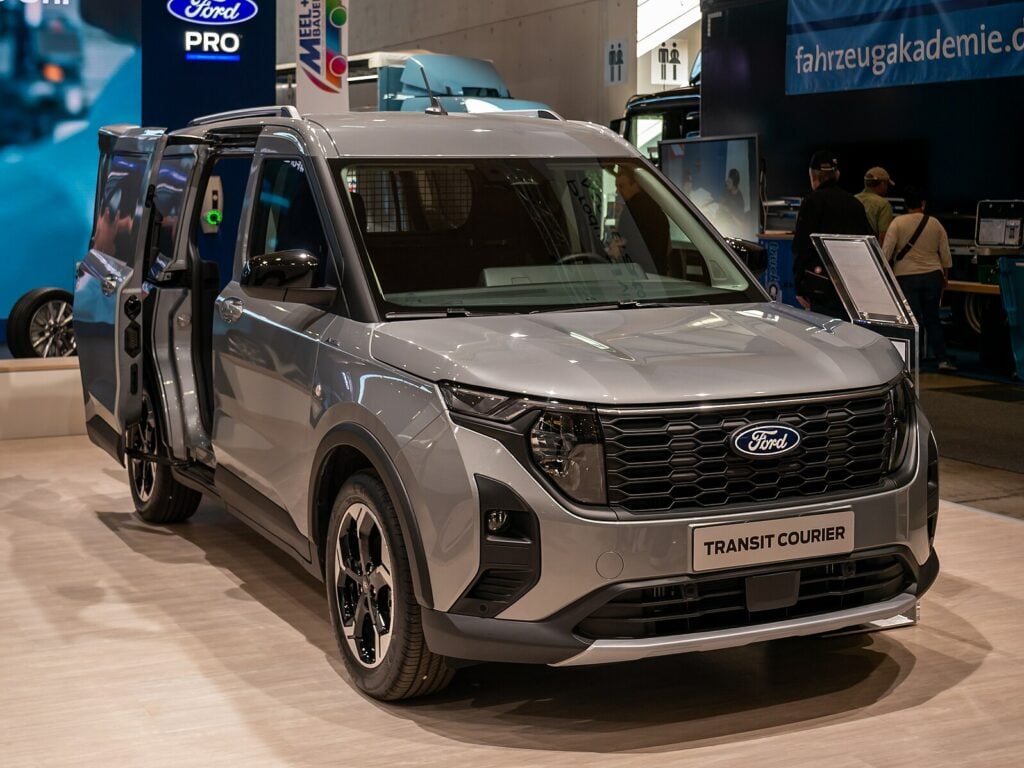 Toyota Large Van, Citroen Relay Peugeot Boxer & Vauxhall Movano
Under the new agreement between the Stellantis Group and Toyota Motor Europe (TME), Stelliantis will supply TME with the new large commercial van for sale in Europe. The partnership agreement also includes an all-electric variant of the Toyota large van. The new vehicle will be the third body size produced by the Group, completing a full Toyota commercial line-up. The vehicle will be produced at two Stellantis plants: in Gliwice, Poland, and Atessa, Italy. The new van, which Toyota is planning to introduce in mid-2024, will mark the manufacturer's debut in the large commercial vehicle market.
By offering a large van, Toyota not only demonstrates its commitment to the commercial market but also puts itself in an advantageous position. It will be one of the very few brands to cover the whole commercial sector – small, medium, and large-sized vans as well as pickup trucks. Currently, only Ford offers such a variety of body styles, with Volkswagen joining when the replacement for the VW Amarok pickup arrives later this year.
The yet-to-be-named Toyota 3.5-tonne van will more likely be a rebadged version of the Stelliantis large vans. such as the Citroen Relay, Peugeot Boxer, Vauxhall Movano, and Fiat Ducato. However, it won't be a rebadged version of the existing models. The current Relay, Boxer Movano, and Ducato are due a comprehensive facelift, and the new Toyota van is being developed as part of this next generation of the group's large van series. This approach ensures that the Toyota van will be equipped with cutting-edge advancements and enhancements that align with the evolving demands of the market. Despite its shared manufacturing location, customers can anticipate a unique and refined experience when driving this upcoming Toyota van.
Regarding the engine options, the diesel variants of the Toyota large LCV will most likely rely on the same technology embraced in the Peugeot Boxer, Vauxhall Movano, Citroen Relay, and Fiat Ducato models. As for the EV model, it's anticipated to follow the same foundation used for the electric versions of those vans. This implies that Toyota's large electric van will utilise the same 121bhp electric motor as seen in those vehicles. Furthermore, the battery sizes of 37kWh and 75kWh are expected to remain consistent, which should allow for a driving range of up to 160 miles.
Considering that the Toyota Proace City Electric won the Van and Commercial Vehicle Awards 2022, we are confident that their upcoming large van will also be a highly appealing fleet van option.
Once the new model goes on sale, it's projected that the electric version will have a starting price of approximately £57,000 (+VAT) which is a bit more than its Stelliantis cousins. However, the diesel version is expected to cost less – approx. £30,000 (+VAT) for a base model.