Given the upward trend in prices for both purchasing and leasing vans in recent years, the question of whether to buy or lease a van has garnered significant attention. This is especially relevant for businesses looking for an option that will give them the best value. With the aim of helping you find the answer to this important question, this article provides valuable insights and guidance.
What's the difference between buying and leasing a van?
Buying a van is the traditional method in which you pay the full price of the vehicle upfront. You can either buy a van outright with cash or take a loan through van finance and pay it off in installments. After you pay the full price or loan balance, you become the owner of the vehicle.
On the other hand, leasing gives you the flexibility to drive a brand new van for a monthly payment. Lease payments are usually cheaper than a monthly loan payment. However, while leasing, you don't own the van. The leasing company retains the ownership of the vehicle. At the end of your contract, you simply return the van back to the leasing company. You can then choose to lease another van or walk away. In some cases, you may also have the option to buy the van out.
Buy or lease? Pros and cons
Factors like monthly costs, asset ownership, depreciation, and end-of-term responsibilities should be considered when deciding whether to buy or lease a van for your business. Let's take a look at the pros and cons of buying and leasing to help you decide which option is best for you.
Advantages of buying a van for business
There are several advantages to buying a van for your business:
Ownership: When you purchase a van outright, you become the owner. Consequently, you can use the vehicle however you need and want. You can customise it to fit your business needs, drive it as much as you want, and sell it when you no longer need the van.
Equity: As you pay off the loan, you build equity in the van. As a result, you gain a valuable asset for your business in the long term.
Cost savings: Over time, buying a van can be more cost-effective than leasing, as you avoid paying monthly lease fees. Once you pay the van off, it's yours until you decide to sell it.
No restrictions: When you buy the vehicle outright, you have the flexibility of unlimited use of the van. You don't have to worry about mileage restrictions or the extra charges if you damage the van.
Tax benefits: If you buy a van, you can claim 100% of its cost as capital allowances. You can deduct the full value of the van from your company's profits. It will reduce your corporation tax as a result.
Resale value: Depending on the condition and demand, you may be able to sell the van in the future and recoup some of your investment or use the funds to buy a new vehicle.
It's important to consider your specific business needs, financial situation, and long-term plans before deciding if buying a van is right for your business.
Disadvantages of buying a van
Upfront costs: You need to have the capital to purchase a van. Buying outright requires a significant upfront investment, as you need to pay the full purchase price or finance it through a loan. You'll also need to pay all VAT upfront if you're buying a new van outright. This can strain your business's finances, particularly if you're a small or startup business.
Depreciation: Like any vehicle, vans will experience depreciation over time, reducing their value as they age. If you plan to sell the van in the future, you will not recover the full amount you initially paid.
Maintenance and repairs: Owning a van means you are responsible for all maintenance and repair costs. Depending on the age and condition of the van, these expenses can add up over time and impact your business's budget.
Limited flexibility: Once you purchase a van, you are committed to using that specific vehicle for your business. If your needs change or you want to upgrade to a different model, it may be more challenging and costly to make such changes compared to leasing.
Disposal: Van owners often dread getting rid of their old vehicles for good reason. You might encounter time wasters or after-sale complaints if you try to sell privately. When it comes to part-exchange, negotiations are common, while "we buy any van" services are most likely to offer less than market value.
It's important to weigh these disadvantages against the advantages and your specific business needs before deciding whether you should buy or lease a van for business purposes.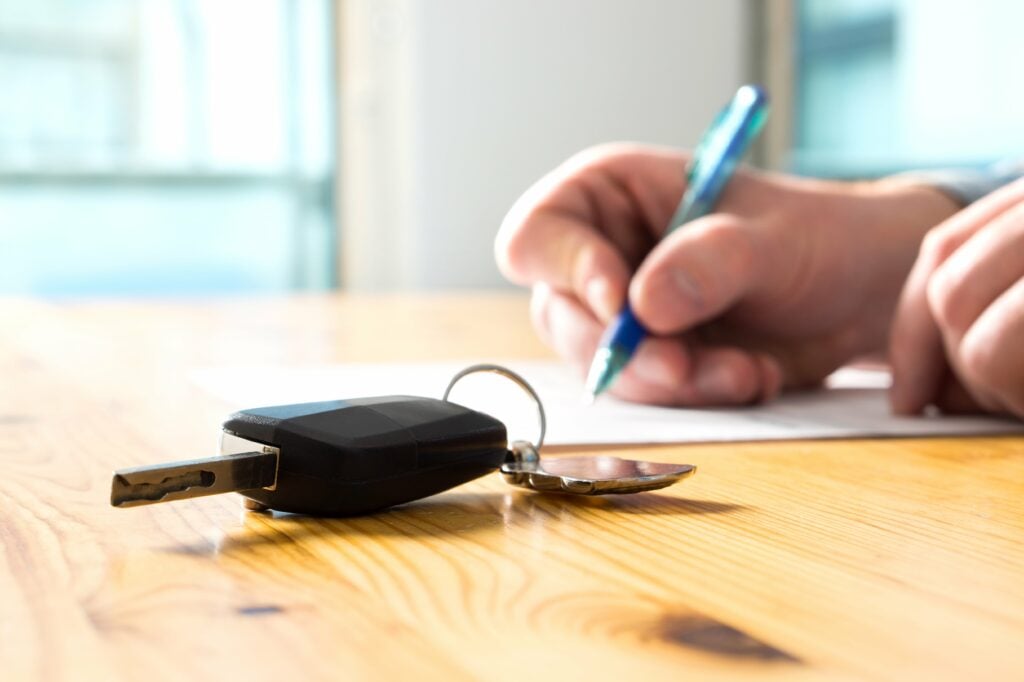 Advantages of leasing a van for your business
Fixed monthly cost: Leasing means you'll agree to pay a monthly fee that remains consistent throughout the lease term. This allows for better budgeting and cash flow management, as you know exactly what you will be paying each month.
Cash flow preservation: Van lease requires a lower initial cash outlay compared to purchasing a van, as you typically only pay a small upfront payment. This can help preserve your business's cash flow for other operational needs.
Access to newer models: Leasing allows you to drive newer vans with the latest features and technologies. This can be advantageous if you want to present a professional image to clients or if your business relies on having reliable and up-to-date transportation.
Maintenance and repairs: In most leasing agreements, the maintenance and repair costs are covered by the manufacturer's warranty during the lease term. This can save you from unexpected expenses and the hassle of managing vehicle maintenance. Leasing also comes with optional maintenance packages, which we especially recommend if your lease term exceeds the length of the manufacturer's warranty. They offer an excellent value for money!
Flexible options: Leasing a van means that at the end of the lease term, you simply return it to the funder. This gives you the flexibility to choose a new van every 2-5 years, which can be beneficial if your business needs change over time. It allows you to adapt to different business demands without a long-term commitment.
No depreciation worries: The monthly cost of leasing covers the predicted depreciation over the lease term. When you return the van and it's put up for auction, your lease company hopes to get at least the estimated sale value. The benefit of this is that you will know the whole 'life' cost of the van from the beginning. You won't have to worry if the value of used vans drops.
Tax deductions: VAT-registered businesses are entitled to reclaim the VAT paid on initial and monthly rentals, as long as the van is for business use only. The cost of a van lease can also be claimed as an allowable business expense on your tax return.
These advantages of van leasing may suit your business if you're looking to have reliable transportation while maintaining financial flexibility.
Disadvantages of leasing a van
Long-term cost: When you're leasing, you are essentially hiring a van for a specific period. Typically it's two to five years. The monthly lease payments may be lower compared to financing a purchase. However, the overall cost of leasing over an extended period of time can be higher. Additionally, if you need the van for a longer period than the lease term, extending the lease or entering into a new lease agreement can incur additional costs.
Mileage restrictions and charges: Most lease agreements come with restrictions. For example, you need to declare your annual mileage for the duration of your agreement. Consequently, you can use the leased van up to the agreed limit. If you exceed the mileage limit, you may be subject to excess mileage charges. This can increase the overall cost of leasing.
Limited customisation: Leasing a van means you'll have limited customisation and modification options. That's because you do not technically own the vehicle. This can be restrictive if your business requires specific modifications or branding on the van to meet your operational needs or enhance your professional image. If you make any changes, make sure they can be undone before returning the van at the end of the lease. Otherwise, you might be charged for the damage.
Loss of ownership: With leasing, you do not own the van at the end of your lease term. This means you do not have an asset to sell or trade in for value. If you prefer to have ownership of your business's vehicles or if you want to build equity by owning an asset, leasing may not be the best option for you.
It's important to consider these disadvantages, along with the advantages, in order to make an informed decision about whether van lease is the right choice for your business.