The electric Volkswagen Transporter offers several advantages over traditional combustion engine vans. Firstly, the electric motor provides instant torque, resulting in quick acceleration and smooth driving. This can be particularly advantageous for urban driving, where frequent stops and starts are common. Furthermore, the electric van produces significantly less noise and vibration compared to its petrol or diesel counterparts, providing a more comfortable and peaceful driving experience.
Moreover, the VW Transporter ABT offers lower operating costs. The cost of electricity is generally lower than that of fuel, and EV vans require less maintenance since they have fewer mechanical components and no need for oil changes. Overall, this can translate into significant savings for fleet managers and business owners.
Another benefit of the VW e Transporter is its environmental friendliness. Zero-emission vehicles play a crucial role in reducing air pollution and greenhouse gas emissions. By transitioning to an electric Volkswagen Transporter, businesses can contribute to a cleaner and healthier environment, which is increasingly important in today's sustainability-focused world.
The VW Transporter electric van is compatible with a variety of charging options. This includes both home charging stations and public charging stations, including rapid charging. Consequently, there's flexibility and convenience in terms of recharging the vehicle. With a short charging time, fleet managers and owner drivers can minimise the downtime of their vans, ensuring maximum productivity.
In conclusion, the electric VW Transporter combines the iconic design and functionality of the classic Transporter medium van with the benefits of an electric battery. With its lower operating costs, environmental friendliness, and compatibility with various charging options, the Volkswagen Transporter ABT electric van is a compelling option for businesses looking to embrace the future of commercial vehicles. By adopting electric vans, businesses can not only reduce their carbon footprint but also enjoy operational advantages and cost savings.
Please see the vehicle specification tab for more information or call us on 01424 863 456 to discuss your leasing deal.
Transmission
Automatic
Free UK Delivery
Included
Bluetooth
Included
Warranty
Included
Download the Vehicle Specification PDF
In the vehicle specification PDF you will find the technical specification, equipment list and contact details to talk to our team
Fill in the form below to customise this lease to your requirements.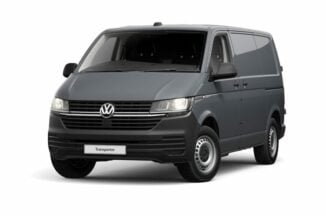 Product type:
Contract hire
Initial rental:
£3,289.56
Contract length:
24 months
Experienced & independent
thanetwide domestics ltd
very impressed with service from start to finish they was very prompt with all actions and always on hand with any queries i had
they kept in good contact helped with my insurance and even checked that the van turned up exactly as i required it i highly recommend this company and will always use in future
17 Nov 2023
Thank you!
They were patient, going through loads of options for my fussy staff members.
16 Nov 2023
Had my new vehicle delivered to my home…
Had my new vehicle delivered to my home address with no issues or complaints.
2 Nov 2023
Tom and Graham have been so helpful and…
Tom and Graham have been so helpful and patient
Would definitely recommend!
30 Oct 2023
Excellent customer services
Excellent customer services
Great prices and kept up to date
24 Oct 2023
Absolutely Outstanding!
We have been leasing commercial vehicles for over 10 years. This is the first time we have used CVC Ltd and I cannot praise them highly enough. James especially was outstanding in his knowledge, pricing and customer service. From start to finish the whole process from enquiry, ordering, delivery and after sales support was second to none. This is quite honestly the very best vehicle leasing experience I have ever had!
21 Sep 2023
Fantastic customer service
Fantastic customer service. kept updated throughout the whole process and have already ordered another van for next year.
13 Sep 2023
First van I've leased
First van I've leased , the experience couldn't have been better .
Graham and Tom were unbelievably helpful all the way throughout the process which only took just over a week from my 1st email to delivery of van .
Would definitely recommend.
9 Sep 2023