There is no denying the unmatched practicality of the Peugeot Boxer Tipper van in the light construction and landscaping sectors. Its ability to transport various bulk and loose loads, coupled with its effortless tipping capability, makes it an essential tool for these industries.
The Professional Premium+ package includes a host of advanced features such as Bluetooth connectivity, DAB radio, Touch Screen Navigation Pack, and a USB socket for easy charging and connectivity of devices. The vehicle also comes with a 3-year/100,000-mile warranty, instilling confidence in its long-term reliability and performance. Furthermore, the optional maintenance package ensures that the vehicle remains well-maintained. This reduces the risk of unexpected downtime and potential operational disruptions.
When it comes to loading and unloading, the Peugeot Boxer Tipper van excels. The load deck is perfectly flat, allowing for easy and secure placement of goods. To ensure optimal safety and stability during transit, load restraint lashing rings are strategically mounted on a perimeter load restraint rail. This smart design choice ensures that the load deck remains clear after tipping. As a result, the risk of any obstructions or damage during operations is minimised.
It is important to note that this tipper van is a conversion based on the Peugeot Boxer chassis cab. The tipping platform is specifically designed with high-tensile steel. It provides superior resistance against dents and damages caused by rock, stone, and aggregate loads. This guarantees that the vehicle remains in top condition, even when handling heavy and demanding loads.
With the Peugeot Boxer Tipper van, businesses can expect a reliable and efficient workhorse. From its sturdy construction to its user-friendly loading and unloading features, this vehicle is engineered to make daily operations more streamlined and productive. Whether it's transporting bulk materials or swiftly emptying the load, the Peugeot tipper van is designed to meet the demands with ease.
Please see the vehicle specification tab for more information or call us on 01424 863 456 to discuss your leasing deal.
Transmission
Manual
Free UK Delivery
Included
Bluetooth
Included
Warranty
Included
Download the Vehicle Specification PDF
In the vehicle specification PDF you will find the technical specification, equipment list and contact details to talk to our team
Fill in the form below to customise this lease to your requirements.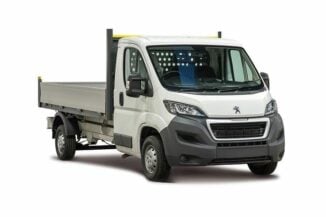 Product type:
Contract hire
Initial rental:
£4,658.64
Contract length:
60 months
Experienced & independent
thanetwide domestics ltd
very impressed with service from start to finish they was very prompt with all actions and always on hand with any queries i had
they kept in good contact helped with my insurance and even checked that the van turned up exactly as i required it i highly recommend this company and will always use in future
17 Nov 2023
Thank you!
They were patient, going through loads of options for my fussy staff members.
16 Nov 2023
Had my new vehicle delivered to my home…
Had my new vehicle delivered to my home address with no issues or complaints.
2 Nov 2023
Tom and Graham have been so helpful and…
Tom and Graham have been so helpful and patient
Would definitely recommend!
30 Oct 2023
Excellent customer services
Excellent customer services
Great prices and kept up to date
24 Oct 2023
Absolutely Outstanding!
We have been leasing commercial vehicles for over 10 years. This is the first time we have used CVC Ltd and I cannot praise them highly enough. James especially was outstanding in his knowledge, pricing and customer service. From start to finish the whole process from enquiry, ordering, delivery and after sales support was second to none. This is quite honestly the very best vehicle leasing experience I have ever had!
21 Sep 2023
Fantastic customer service
Fantastic customer service. kept updated throughout the whole process and have already ordered another van for next year.
13 Sep 2023
First van I've leased
First van I've leased , the experience couldn't have been better .
Graham and Tom were unbelievably helpful all the way throughout the process which only took just over a week from my 1st email to delivery of van .
Would definitely recommend.
9 Sep 2023