With its space and efficiency, the Mercedes-Benz Vito is a popular mid-sized commercial van.
Mercedes Vito's reverse camera keeps you and other road users safe by monitoring obstacles behind the vehicle. Furthermore, it features Active Brake Assist and Emergency Calling, both of which provide extra safety for drivers.
There is an eight-way adjustable driver's seat with lumbar support, a locking glovebox, a multifunctional steering wheel, heated electric mirrors, and twin sliding doors on the Mercedes Vito Progressive.
Vito vans in L2 length have a load volume of 6m3 and a payload capacity of 1,002kg.
For more information, please visit the vehicle specification tab, or call us on 01424 863 456.
Manual
Included
Included
Included
Download the Vehicle Specification PDF
In the vehicle specification PDF you will find the technical specification, equipment list and contact details to talk to our team
Fill in the form below to customise this lease to your requirements.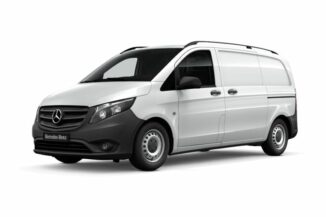 Product type:
Contract hire
Contract length:
60 months
Experienced & independent
thanetwide domestics ltd
very impressed with service from start to finish they was very prompt with all actions and always on hand with any queries i had
they kept in good contact helped with my insurance and even checked that the van turned up exactly as i required it i highly recommend this company and will always use in future
17 Nov 2023
Thank you!
They were patient, going through loads of options for my fussy staff members.
16 Nov 2023
Had my new vehicle delivered to my home…
Had my new vehicle delivered to my home address with no issues or complaints.
2 Nov 2023
Tom and Graham have been so helpful and…
Tom and Graham have been so helpful and patient
Would definitely recommend!
30 Oct 2023
Excellent customer services
Excellent customer services
Great prices and kept up to date
24 Oct 2023
Absolutely Outstanding!
We have been leasing commercial vehicles for over 10 years. This is the first time we have used CVC Ltd and I cannot praise them highly enough. James especially was outstanding in his knowledge, pricing and customer service. From start to finish the whole process from enquiry, ordering, delivery and after sales support was second to none. This is quite honestly the very best vehicle leasing experience I have ever had!
21 Sep 2023
Fantastic customer service
Fantastic customer service. kept updated throughout the whole process and have already ordered another van for next year.
13 Sep 2023
First van I've leased
First van I've leased , the experience couldn't have been better .
Graham and Tom were unbelievably helpful all the way throughout the process which only took just over a week from my 1st email to delivery of van .
Would definitely recommend.
9 Sep 2023